A few weeks ago, my sister proposed a topic for my blog that was mutually advantageous: it would help her round out her wardrobe and would enable me to post on something while my closet was MIA. "Go through my closet and help me figure out what staples I need!"
As I've mentioned a few times before, my sister and I have drastically different tastes in clothing. Five years ago, she was all, as Stacey best coined: "Hippy-dippy-trippy" and I was the poster girl for preppy. Of course, our styles have slowly come closer together on the spectrum. As such, when she said "Staples" I thought of
Tim Gunn's staples
, but tailored to my sister's body shape. She needed not just any skirt, but a fitted, high-waisted pencil skirt would be excellent. And there was a big lack of a fitted blazer that WASN'T denim. As I started listing these things off, a cry came from not only from the person beside me in the closet, but also from the next room. Apparently, even in my accounting for her body type, I forgot something. Sure, I was ignoring her usual style choice, but I was also ignoring perhaps the most important detail: my sister is a new mother on mat leave. High waisted pencil skirts and dry-clean-only blazers do not quite fit the life of a woman who goes out for lunch after Mommy & Me yoga. Yes,
E has done an excellent job of showing us how being a Mom on the Run doesn't mean wearing "Mom jeans,
" but what about those who wish to take casual down a notch or two?
And yes, I said us. Upon clarifying what she had meant by staples, I realized despite our usual difference in style, we were both finding ourselves in a similar conundrums: what do you wear when you're not going to an office? As such, I've created a list of casual basics that work for a new mom, a working-from-home student, or anyone on their weekends off.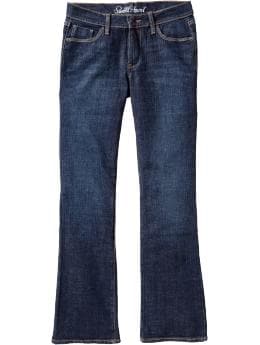 Old Navy Sweatheart Jeans
1. Dark wash Bootleg jeans
Mel
and I were just discussing the other day how a well fitting pair of jeans can make or break an outfit. It's interesting how most of us skimp on the budget of jeans, because paying more the $50 just hurts. However, jeans are often our most worn items. A cut like bootcut is classic, so if you do make the investment, you don't need to worry about them going out of style the next week.
Gap Button Front Denim Skirt
2. Jean Skirt
I'm not going to tell you the cut of jean skirt to get: it really needs to depend on your body type and your activity. Either way, a denim skirt can be comfortable enough for a day-in but can easily transition to an evening out, or an impromptu meeting. A darker wash, and an age and shape appropriate cut make this another classic which won't go out of style.
Old Navy Perfect Khaki Bermuda


3. Walking Shorts
Shorty-shorts are for teenboppers with perfect legs. Baggy cargo shorts demand a skate board. Comfortable enough to do anything, but tailored enough to go anywhere. Neutrals will give you the most use, but hey, who is going to stop you from wearing bright red ones?? There are no dress codes here!
Gap Henley Dress
4. Cotton dress
The most basic dress is almost the best here, (so long as it fits) as it is comfortable and looks good. However, it's also a great basic for layering and accessorizing. Choose a colour that you love and that looks great on you... but be sure to use colour-safe detergent: you'll get a lot of wear out of it, and nothing says "outdated" like fading.
Ricki's Ribbon Floral Neckline Tee
5. Graphic or embellished tees.
Tees have gotten a bad rap for their casual factor. Everyone has that beer shirt, company shirt, or promo shirt sitting in their closet for those lazy Saturdays when you just want to be comfortable. However, why does "comfort" have to mean "poorly sized" or "walking billboard"? Choosing age-appropriate tee shirts (ie: no "Juicy" or corny jokes, if you're over the age of, let's say, 16) that fit immediately ups the fashion factor. Screenprinting, embroidery, beading, or appliques add interest an easy, comfortable outfit.
Old Navy Perfect Ribbed Knit Tank
6. Colourful tanks
A basic cotton tank can have infinite impact. When paired with other tops and jackets, they can add colour, provide modesty, and are even great on their own! I will admit, I mocked my sister for her rainbow of cotton tanks. While I don't have cotton tanks, I do have just as many (possibly more!!) camis that I use in place of cotton tanks!!
Ricki's Embroidered Trim Cardigan
7. Colourful fine knit cardigans
There is a reason twinsets were so popular in the 50s and 60s: they're easy and they're polished. While wearing a "set" may be a little too retro for your taste, cardigans themselves are fabulous basics to have on hand, and are often small enough to throw in to a bag, stroller or even a purse. Not only to they add warmth, you can add colour, texture, or shape to any outfit with a cardigan. They, themselves, can be styled in different ways just by different amounts of buttoning. As much as we all love Merino Wool or Cashmere, if you're prone to messy activities, buying a washable cardigan is a must.
Ricki's Navy Stripe Knit Blazer
8. Cotton blazer
I'm including here sweatershirt material blazers, jersey blazers, denim blazers, etc. Basically, anything wash and wear!! The emphasis should be finding something that fits, and doesn't hinder your movement. I can already sort of hear my sister say: "But I don't like blazers! I don't even wear one to work! Why would I want one now?" (to which my reply is: "I bought one for your daughter, don't let her be more fashionable than you!!"). Think of it as a stylish hoodie that helps create shape!
Le Chateau "Weekend Blues"
9. Sweat Suit Alternative
Yes, I totally lifted this from Mr. Gunn, but there is a reason why so many of us love him: he knows what he's doing! While he does allow "Bonus: One trendy item," the sweatsuit alternative that immediately comes to mind is leggings and tunics: a great trendy item that definitely fits into this category. Well-fitted cargo pants, ponte pants, etc also work. These clothes are key for the days when you know you should get dressed, but pajamas just feel so comfortable (though I will note that your cotton dress would be a great alternative too!!). In my opinion, a FITTED hoodie also works here!! Fitted hoodies can help to dress down business outfits. (
Hillary
rocks the
fitted hoodie!
)
10. Ballet flats
These slip on and off. They can be paired with shorts, jeans, skirts, dresses, everything. Wear them with tights, socks, or barefoot. Even if you get a pair of Dr. Scholl's fast flats (My mother-in-law got me some for Chrsitmas, and I LOVE them. Their latest use? I wore them to the pool in the hotel the other day: didn't take up any room in my overnight bag, and felt as comfortable as slippers!), they are great to throw in your purse in case you end up walking more than intended.
Spring Shoes Hochadel
11. Flat boots
Granted, my sister has amazing balance in stilleto boots, on ice, balancing a 12 pound baby in a car seat, but I do have a heart attack every time she does. However, flat boots will log more kilometers than heeled boots. Again,there is not a thing on this list that can't be paired with flat boots!
Aldo Lovitz
12. Flat sandals
Really, by this point, I'm sure you don't need me to tell you why you want flat sandals. But don't misinterpret "flat sandals" for "flip flops" or "crocs" or "atheletic velcro sandals". There are so many stylish, and foot friendly options like gladiators and t-straps (did anyone else breathe a sigh of relief that those were still around in and around the huge platform trend??). A little more polish, without any less comfort!
Don't get me wrong: the classic 10 key pieces DO have their place. I love a little black dress, fitted blazer, tailored dress pant, and heels galore. However, casual clothes do have their place, too!
Ps - great place for awesome casual or dressy staple?
Collette is doing a Modcloth Giveaway!!